Niagara River Fishing Charters
Steelhead, Brown Trout, Lake Trout, Walleyes, King Salmon, Trophy Smallmouth Bass, are all plentiful in the Niagara River.

Check out our photos
We drift fish the Niagara River out of 19 ft.deep V aluminun boats, 130 HP Yamaha outboards and electric trolling motors for controling the drift.
Bottom bouncing fresh eggs and egg imitations or live bait on light tackle is an extremely effective technique providing plenty of hits and hook ups.
Most days we limit out which is 3 fish per man for trout and salmon or 5 for bass. After that we can catch and release.
Of course, if you do keep a limit we will clean and pack them for you at the end of the day.
Best fishing dates on the Niagara River
September - October: Fall King Salmon up to 35 pounds move up river to spawn. These are some of the most powerful gamefish available in North America.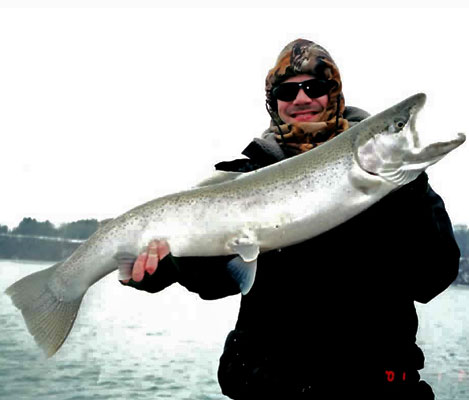 November - April: The Niagara is known as one of the best steelhead rivers in the world! These chrome leapers are one of the most exciting fish to catch on light tackle. Trophy Lake Trout and Brown Trout are also plentiful.
May - Early June: Trophy bass seaon on Lake Erie at the mouth of the Niagara. 3-5 lb bass are common with 6 lb smallmouth being caught daily. One of the Best trips we offer!!!!
Mid June - August: Small mouth Bass thrive in this deep, well oxygenated waterway. Catches of 50- 100 bass a day are average. 2-3 pound fish are the standard. Tropy size Walleye and Muskie are also available.
The Niagara Bar
One of the most publicized fishing locations in the northeast in the last several years is the sand bar at the mouth of the Lower Niagara River where it drains into Lake Ontario.
From March thru May, this area is one of the most AMAZING fisheries you have ever seen!!
Lake Trout, Huge Brown Trout, and spring Coho and King Salmon
gather to feed on smelt and alwives that gather at on the sandbar before they make their spring spawning runs up the lower river.
Catches of 30 fish or more a day are common.
---
River charters average 7 hours.
Summer bass and fall salmon charters leave the launch ramp at Lewiston at 7:00AM
Winter-Spring steelhead-trout charters leave the launch ramp at 8:00AM.
Please be at the dock at least 15 minutes before departure
For meals and lodging, see our Meals and Lodging page.